Yesterday, was the last day of my Holiday Gift Guide. I hope you discovered some new things and get you going with gift ideas. Today, I'll share with you part one of what I personally would want for Christmas just in case somebody out there want's to generously get me something. Just like that train of thought, my choices for the most part, are expensive and unrealistic. But hey, I call it a dream wishlist for a reason. So check 'em out and enjoy my delusions.
1.
Alexander Wang Oversized V-Neck
: The ribbing detail is what sells me on this top. It's what make it special and this special thing is available at
Saks
,
Shopbop
,
Jonathan and Olivia
and
Reborn
.
via reborn
2.
Alexander Wang Suede Trench Vest
: this vest is so cool I've posted it twice this month. The hybrid of trench, moto, and military vest in a cool shade of burnt orange that only Alexander Wang can do. Sold! ...at
Netaporter
via netaporter
3.
Christopher Kane Dress Shirt with PVC Gel Collar
: This again is a cool update on a basic. Now that it's on sale its now sort of within reach. Available at
Netaporter
.
via netaporter
4.
Balenciaga Collar Tip Sleeveless Shirt
: I have this undying thirst for collar tips right now and this is the original culprit of this obsession. I'm not a fan of the sleeveless but the collar tip detail is phenomenal that I can forget all about that. Available at
Yoox
.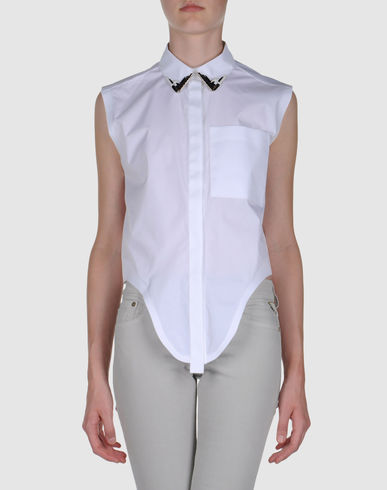 via yoox
5. Proenza Schouler PS1 Bag: Seriously, I NEED THIS BAG. It has probably been two years of unhealthy lusting that someone just need to put me out of my misery and get me one already! It's available everywhere. Who's got the deep pockets?
via proenzaschouler